If you are looking to create a focal point for a room that's truly game-changing, you should be browsing fireplace ideas. 
The fireplace is the natural focal point of any space – from kitchens to living rooms. They're place around which family and friends naturally congregate of an evening to converse and relax, the hub that beckons us with its welcome warmth and light, and, with a bit of imagination, an eye-catching design feature that might even have a practical, architectural role in the room, too.
Below, we bring you fireplace ideas for every room – though mostly presented as living room fireplace ideas, each one could feature in another part of the house.
Fireplace ideas
Think 'fireplace ideas' and you might conjure up traditional fireplace ideas or farmhouse fireplace ideas – lovely, welcoming hearths that are wonderful features of a room, but which don't set the world on fire (excuse the pun) in terms of architecture. 
Of course, we have included those below – no period home would be complete without them. But we have also featured some really clever fireplace ideas for those of us who want to push the boundaries a little more. 
1. Make your fireplace ideas the focal point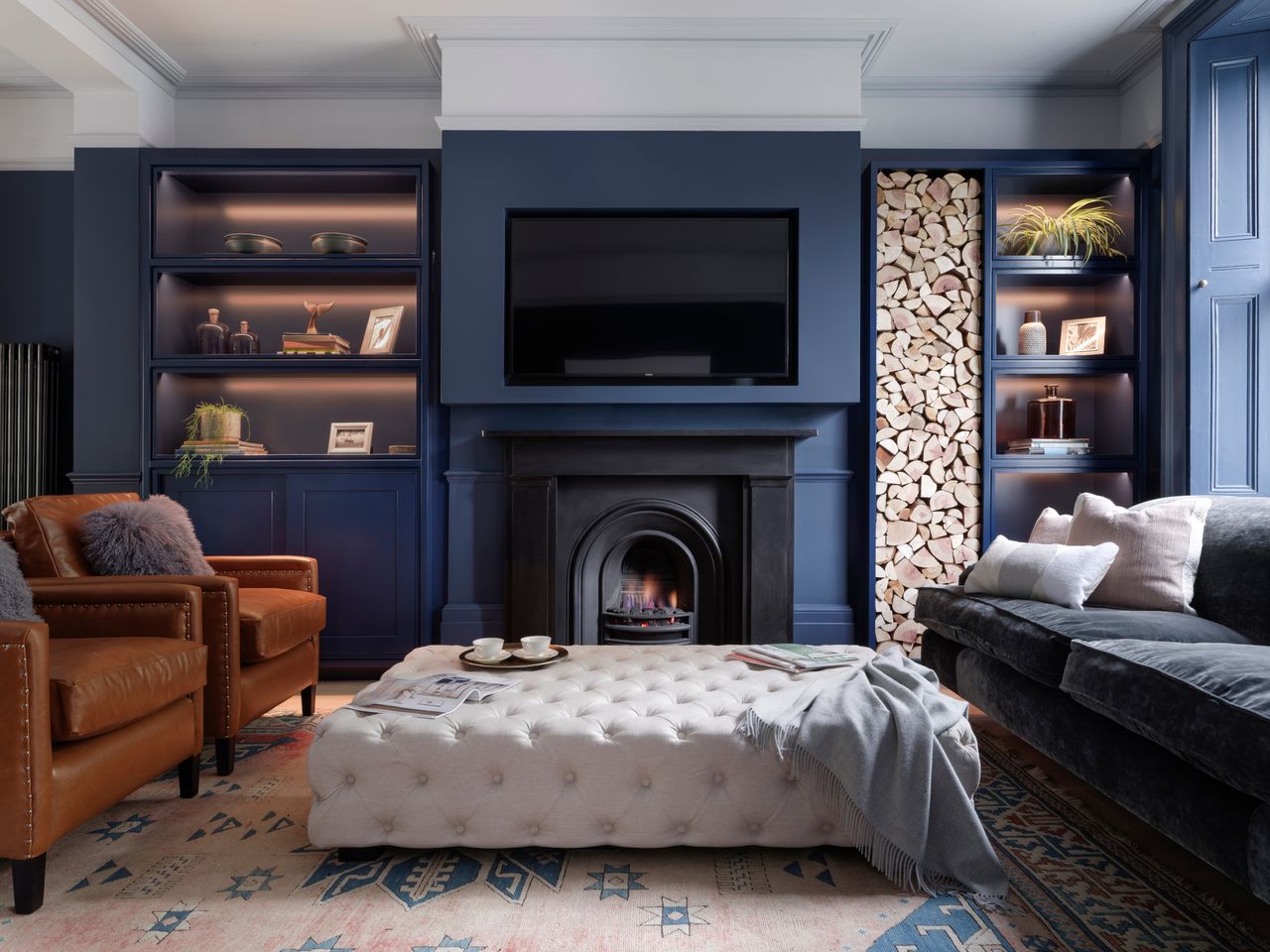 'The existing slate fireplace in this Victorian townhouse was the starting point for the design of this welcoming reception room. The color and material of the fireplace was instrumental in deciding the color scheme for the room – we wanted this room to be very atmospheric and selected a dark moody blue for the dominant color,' says Linda Levene, Design Director, LLI Design. 
'We wanted the fireplace to sit comfortably in the space and although being a strong presence we didn't want it to be too dominating in the overall scheme. By designing a bespoke joinery unit in the niches either side of the chimney breast the fireplace became the centerpiece of this room.
'We complemented and balanced the fireplace with a decorative log display to one side emphasizing the room's height and added warmth and drama by way of the back lit shelves either side. The overall effect is warm, cozy and considered but not overbearing,' she concludes.
Katie Thomas, of KTM Design continues: 'Don't forget to decorate your fireplace for added impact. Use cut firewood, on a stand or in a natural material basket. If you're looking to add something more, sitting a plant on the hearth can add color to the space whilst keeping a natural feel and allowing focus on the tiles.' 
2. Choose a stove for a contemporary twist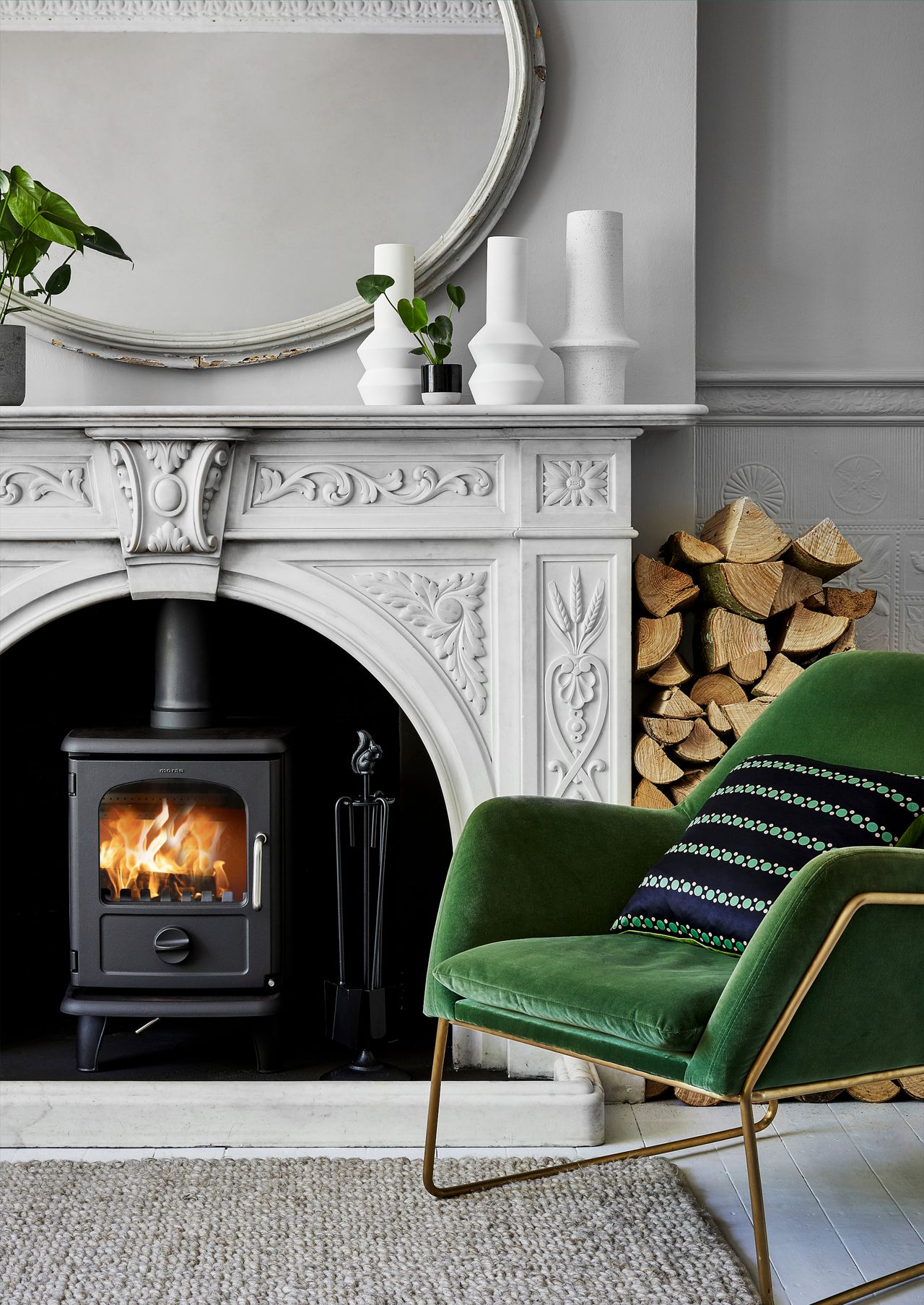 In period homes, it's likely that you will have a fire surround that reflects the age and architecture of the house, but if yours is a more contemporary scheme – or you want a cleaner approach to burning fuel, an insert stove might be a great choice for you. 
'As insert stoves are fitted into a wall, giving the illusion of an eye-catching 'window of fire', opt for a minimalist approach to styling to let the fire take centerstage. Simple accessories and ornaments like vases positioned on the floor will add a subtle layer of character to a space,' says Declan Kingsley-Walsh, Managing Director at Morsø.
'The larger the glass viewing area, the better, aesthetically,' says Vicky Naylor General Manager, ACR Stoves. 'The increase in open plan living spaces also means that many homeowners are looking for a stove which can be placed in the middle of the room and enjoyed from all angles, so stoves with more than one viewing window are also increasingly popular.'
3. Build a storage wall around your fireplace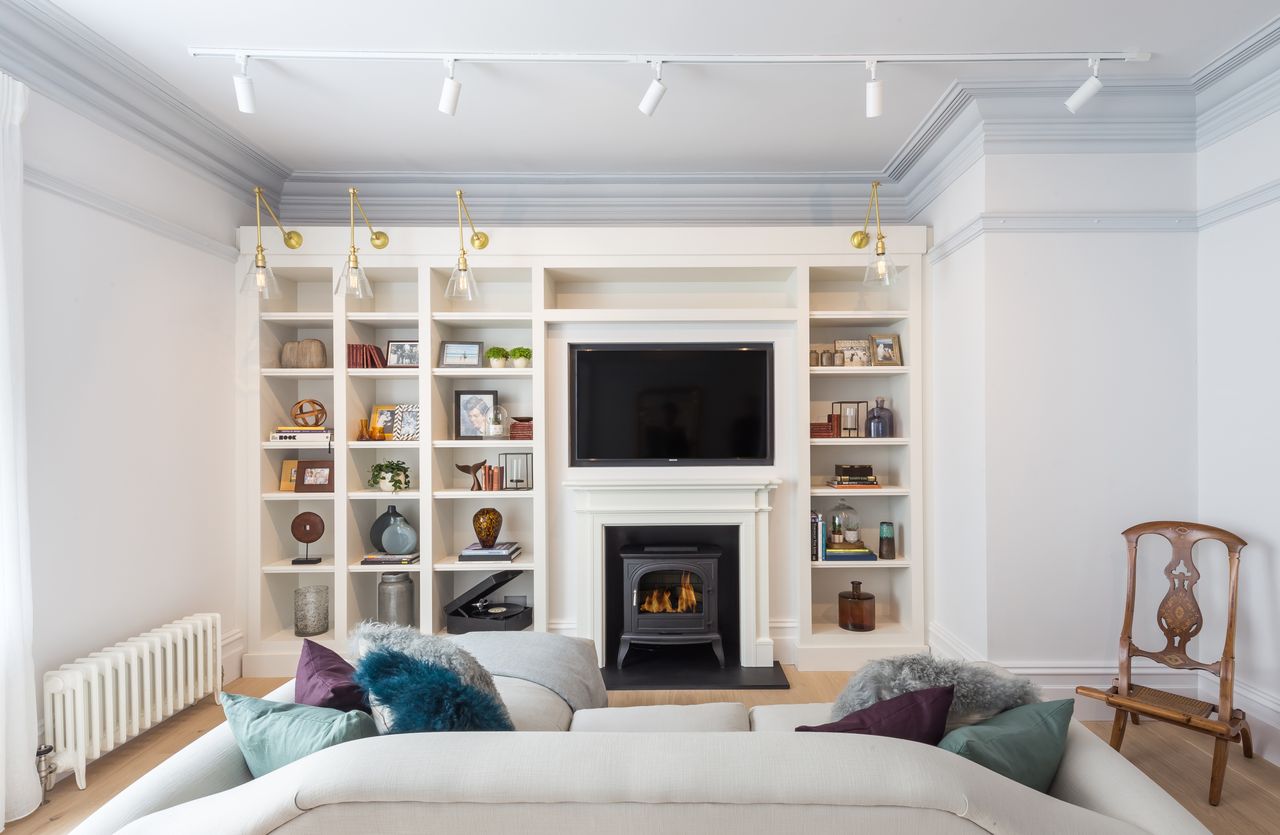 Rules of symmetry say that a fireplace should sit in the center of a wall but if yours doesn't, you can correct the room's proportions really practically by building storage around it. 
'With a chimney breast, the space either side needs to be considered in the overall design and how it can be integrated with the space, whether the space either side should be designed symmetrically or asymmetrically, whether it should be emphasized or made invisible,' explains Linda Levene of LLI Design. 'Obvious examples are bookcases and storage for decorative elements such as log displays.'
'A fireplace is more than a piece of furniture or an architectural decision,' muses Monique Tollgard, founder of Tollgard. 'A fire is a ritual you add to your home and your life. The warmth and grandeur of a fireplace significantly alter a rooms atmosphere even with no logs on or burning brightly.  
'The fireplace becomes not just another design element but a main focal point, so discovering the perfect addition to your space can elevate the room from one of function into one full of ambience and conviviality.'
4. Enhance space in a cottage with a fire surround-free approach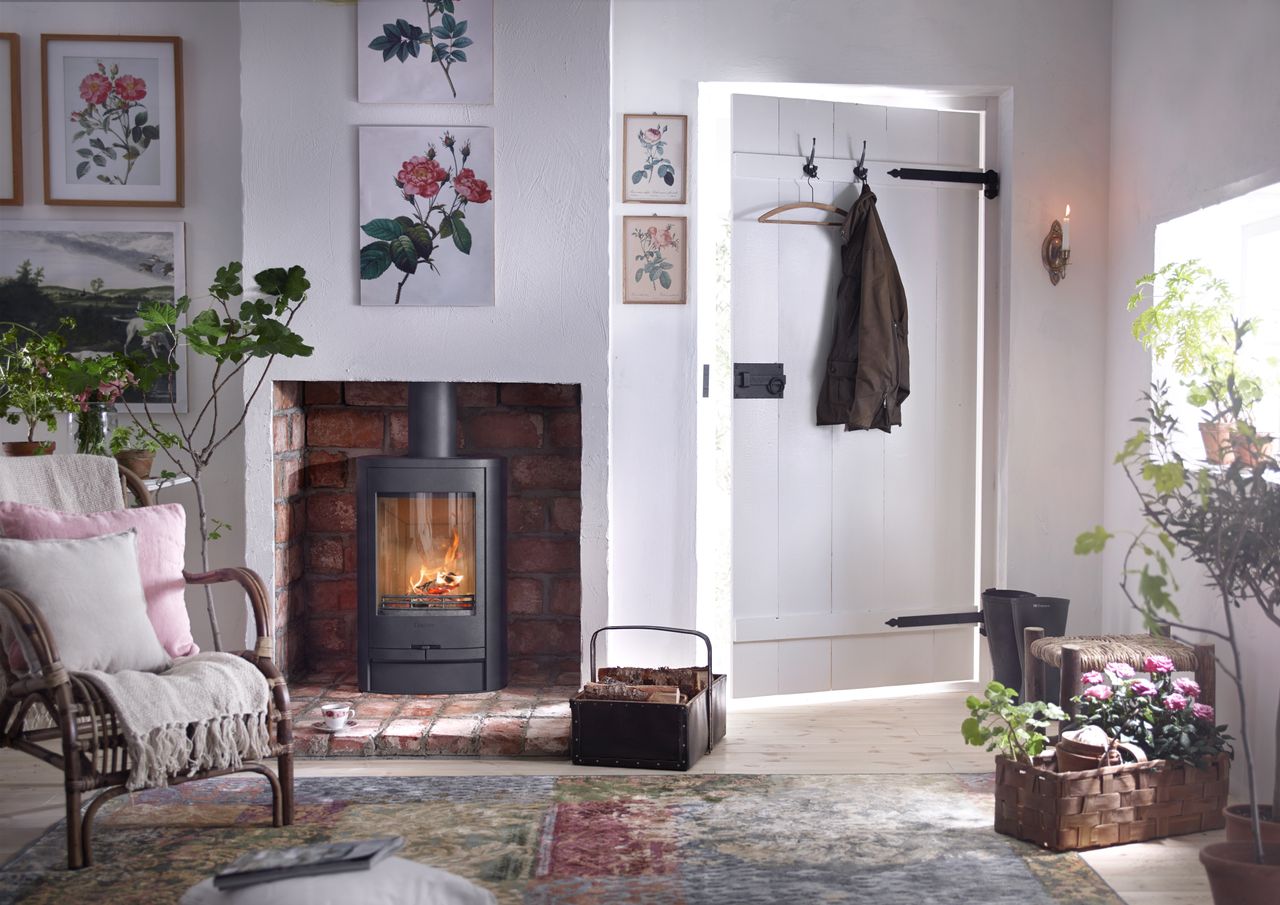 Fireplaces don't necessarily need a surround or even a mantel to be a fabulous focal point for a room – in fact, in small spaces, removing them can make a space feel larger. If you do this, however, you will need to ensure the hearth itself is inviting, and one way to do this is with an insert stove. 
'Installing a wood burning stove is a simple way to transform both the look and feel of not just your fireplace, but your entire room,' says Catharina Björkman, Scandi lifestyle expert at Swedish wood burning stove manufacturer Contura.  
'As well as being an efficient way of heating your home, it acts as a focal point, adding ambiance and that all important cozy factor. For slotting into an existing chimney breast, you will need a compact low-leg model that complements the aesthetic of your home.'
5. Use a fireplace idea to create a feature wall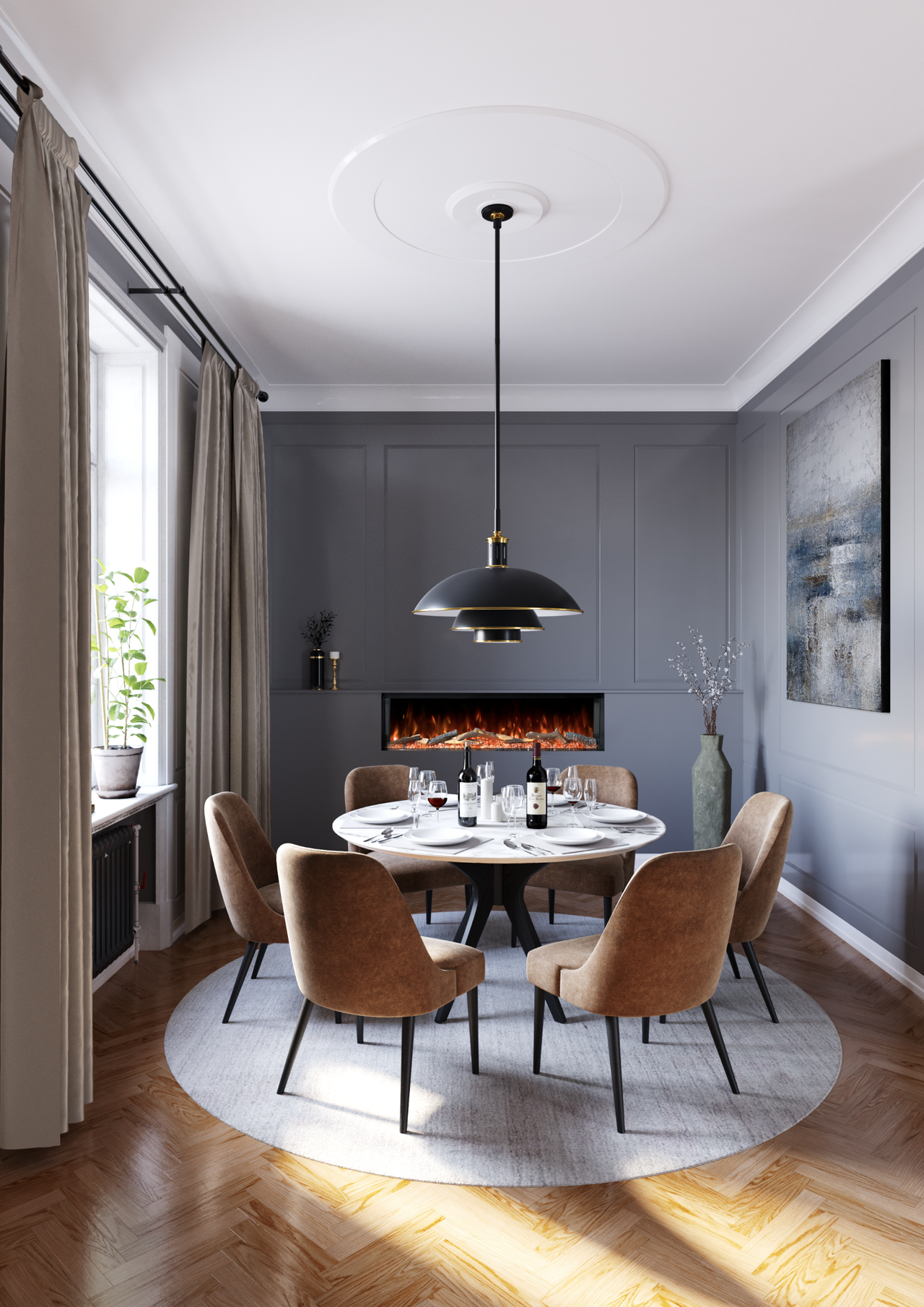 If the fireplace ideas you are searching for require a little more imagination, this one should please. Set at eye-height for dinner guests, this electric fire is almost like a piece of art on the wall beyond the dining table. In a low-lit room at night, it would create a warm, inviting glow that will encourage diners to linger. 
'Electric fires are a great alternative and are ideal for creating a feature wall in a modern home. Allow the fire to be a statement on its own, or choose to add a striking piece of art or a flat screen TV to add balance,' says Jon Butterworth of Arada Stoves.
6. Add texture with fireplace tiles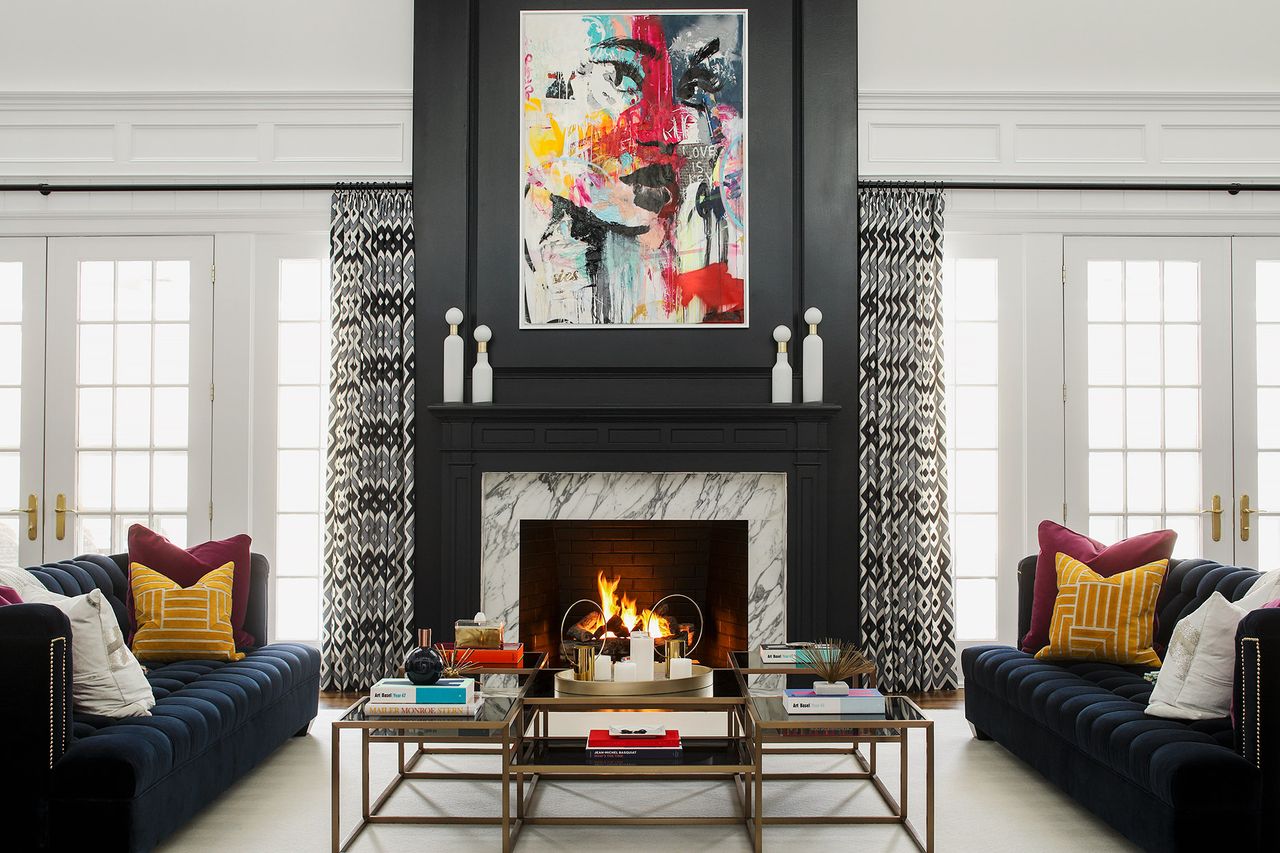 Introducing natural stone in your fireplace tile ideas gives you the opportunity to add an extra layer of texture and interest to a room – and of course draws the eye towards the surround itself. 
'The fireplace box was already part of the home. We renovated the façade around the fireplace by painting the millwork a dramatic deep blue/black to create drama in the space. The stone around the façade is marble and was kept simple and timeless for longevity,' says Creative Principal Karen Wolf of Karen B Wolf Interiors.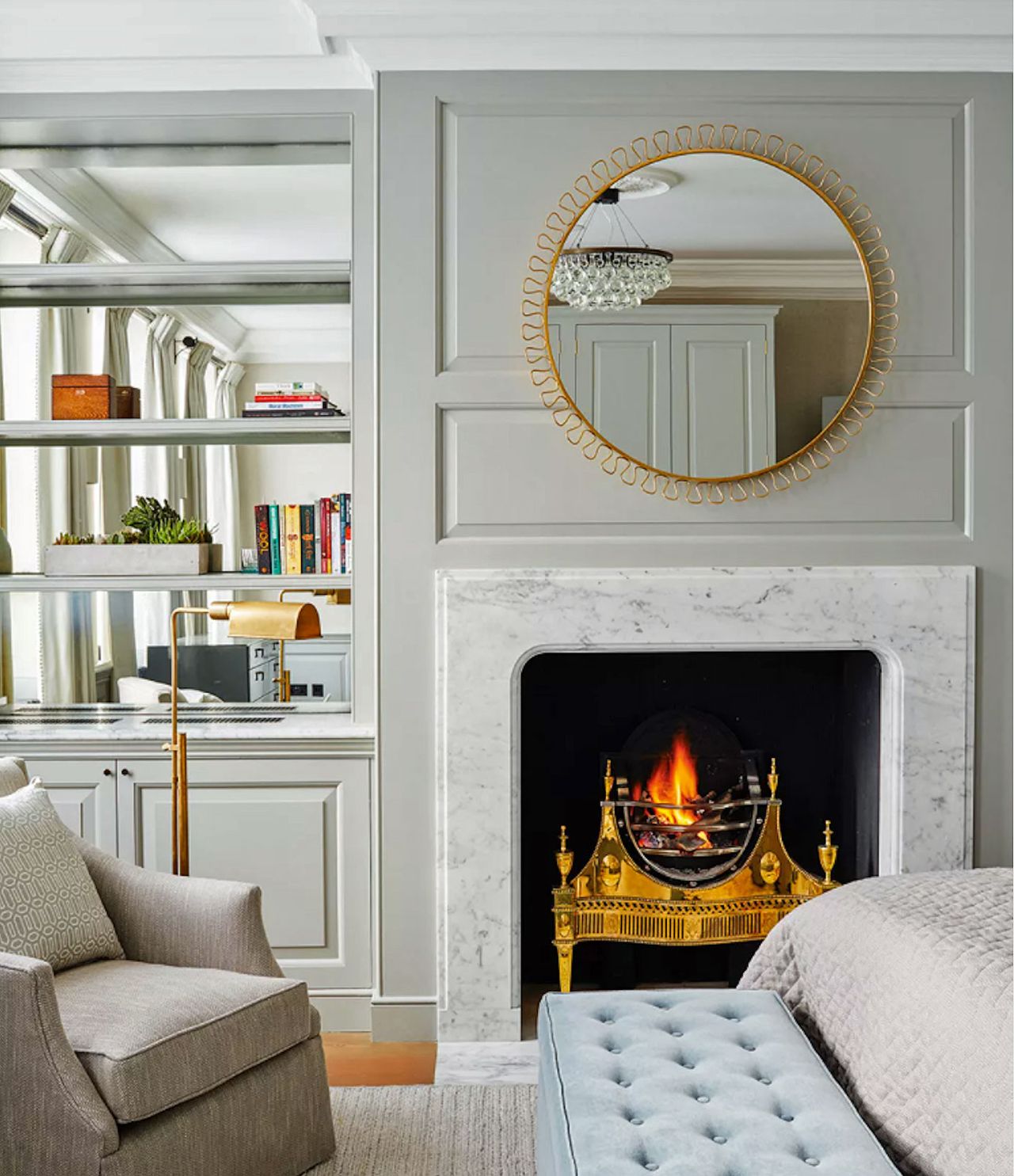 The fireplace in this bedroom features a beautifully understated, slim profile marble surround, allowing breathing space for the decorative ideas of this feature wall. Decorating with mirrors, in both the room's alcoves and above the fireplace itself, reflects light, making a small bedroom look bigger, while the glorious brass fire basket creates an air of glamor.
8. Paint a fire surround to suit your scheme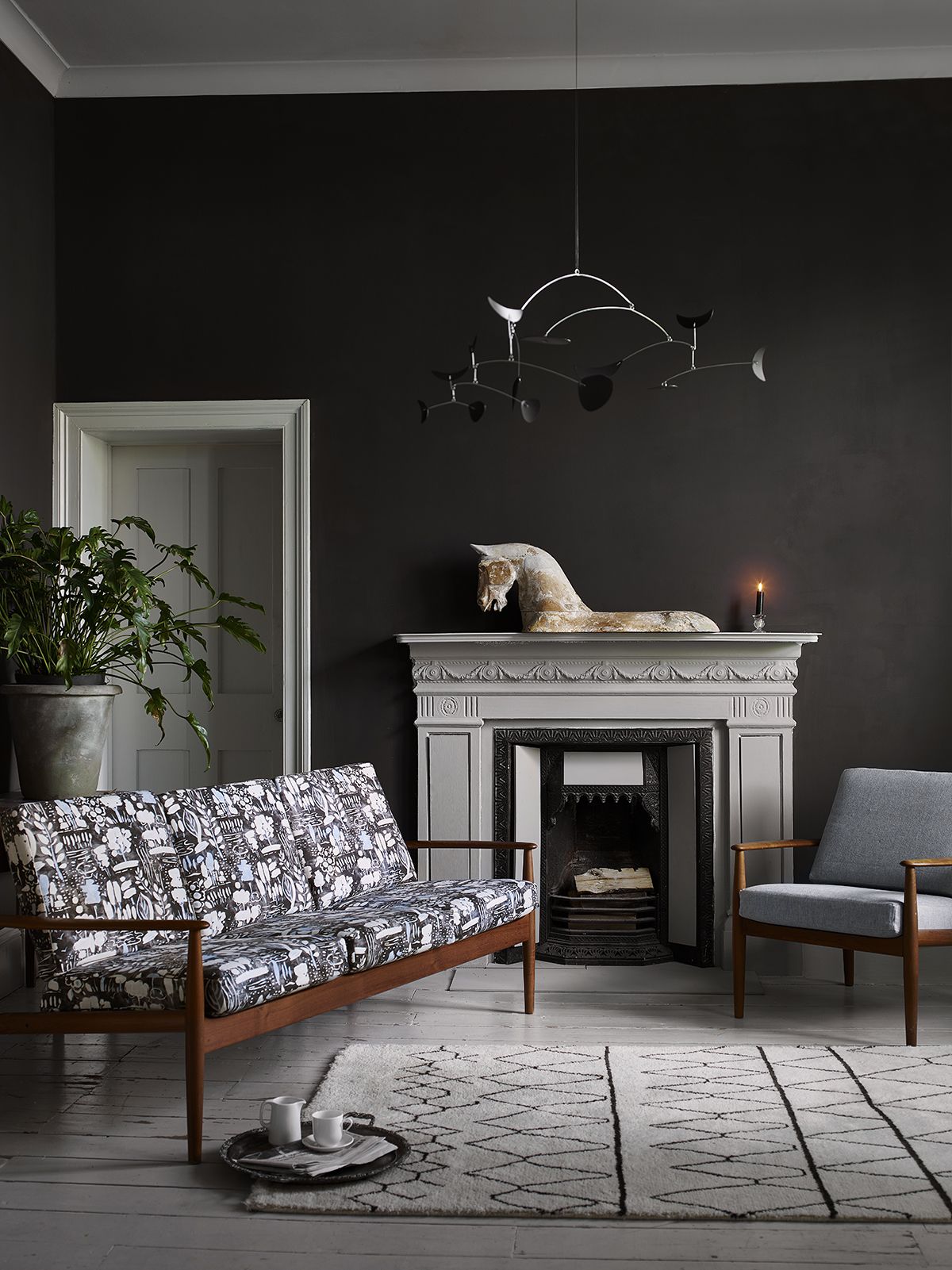 'Rooms with fireplaces in them will have almost always been designed so that the eye will be drawn to the fireplace, and so it's important to consider the color properly,' says Annie Sloan, color and paint expert. 
'Happily, painting a fireplace is an exceptionally easy project. Brickwork lends itself exceptionally well to Chalk Paint™ because it's porous and will absorb the paint beautifully. Because it's a standing surface you won't need to wax or lacquer to protect the painted fireplace itself, although do make sure to finish the mantel to protect. It's also very easy to repaint and makes a huge difference in a room with very little effort.'
9. Use a fender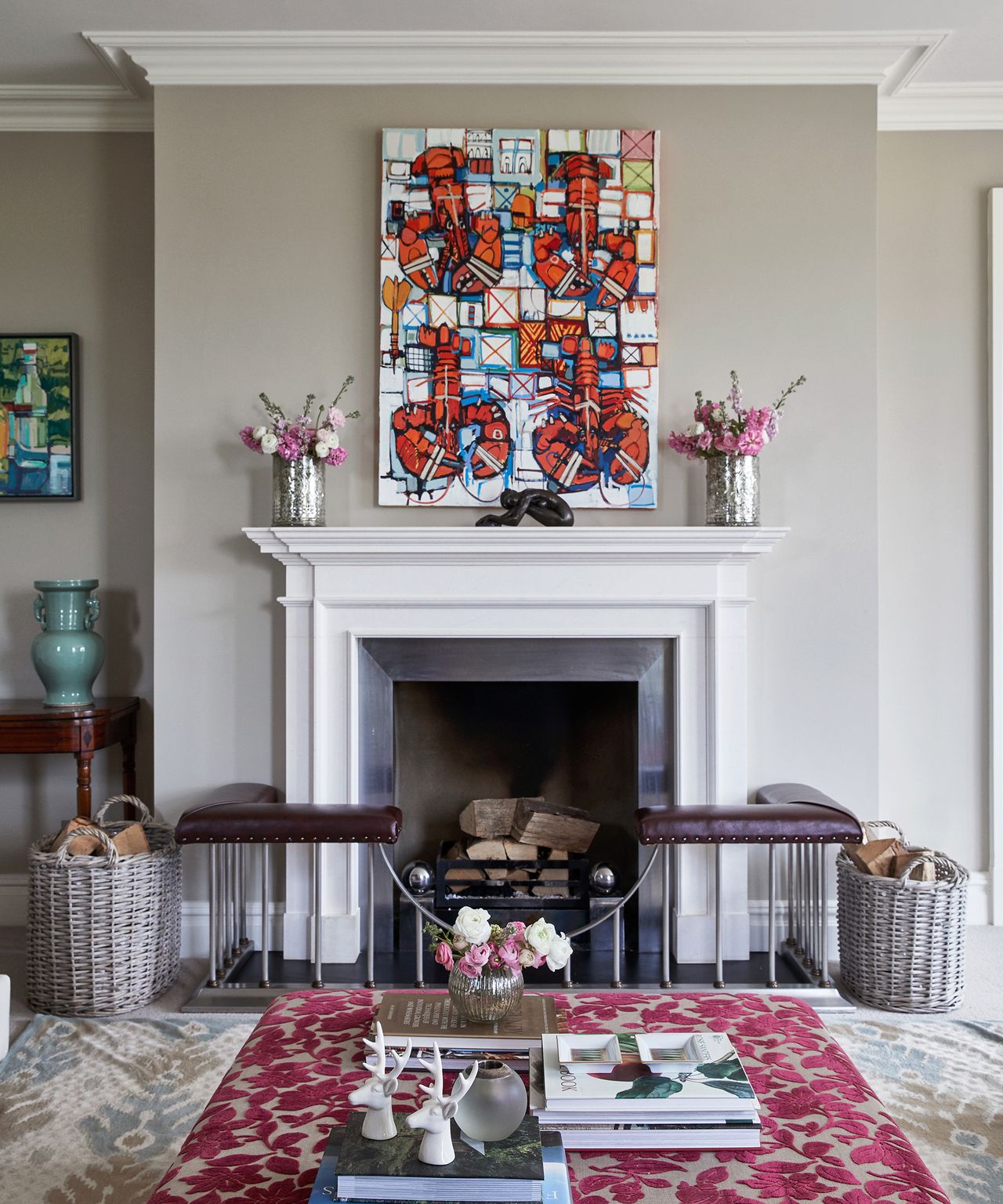 If you're drawn to more traditional interiors, take a cue from classic fireplaces and add an upholstered fender.
As well as preventing ash from entering the room, if you were to make it large enough, it can even act as additional seating at peak entertaining times without taking up precious floor space.
Select a leather covering for a hard-wearing option, but softer materials such as velvets can also be used if it's simply a visual addition rather than expected to be used constantly as seating.
10. Look to nature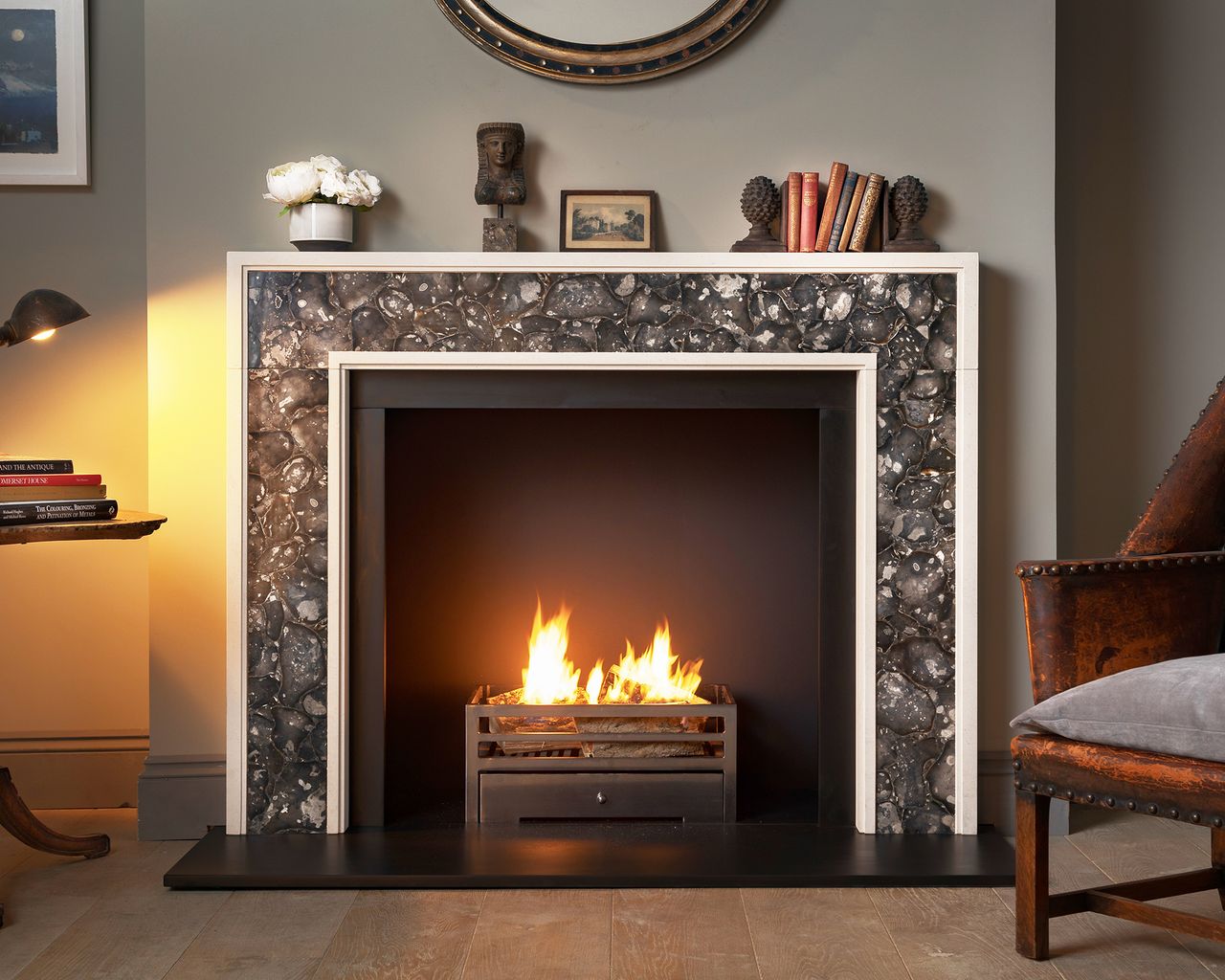 Sometimes the best ideas are the ones which come straight from nature. Inspired by the Flintstone that pepper the English South Downs, this Chesney fireplace proudly displays these sliced, veneered and polished boulders set within a frame designed to show off the panels. 
The range includes three fire surround designs: The Avebury, The Cirencester and The Chedworth (shown), all of which have been handcrafted by British masons. Available in eight different natural materials, from the semi-precious amethyst tones of Ball Eye Blue marble to the subtle detailing of Swaledale Fossil limestone. 
11. Size up your frame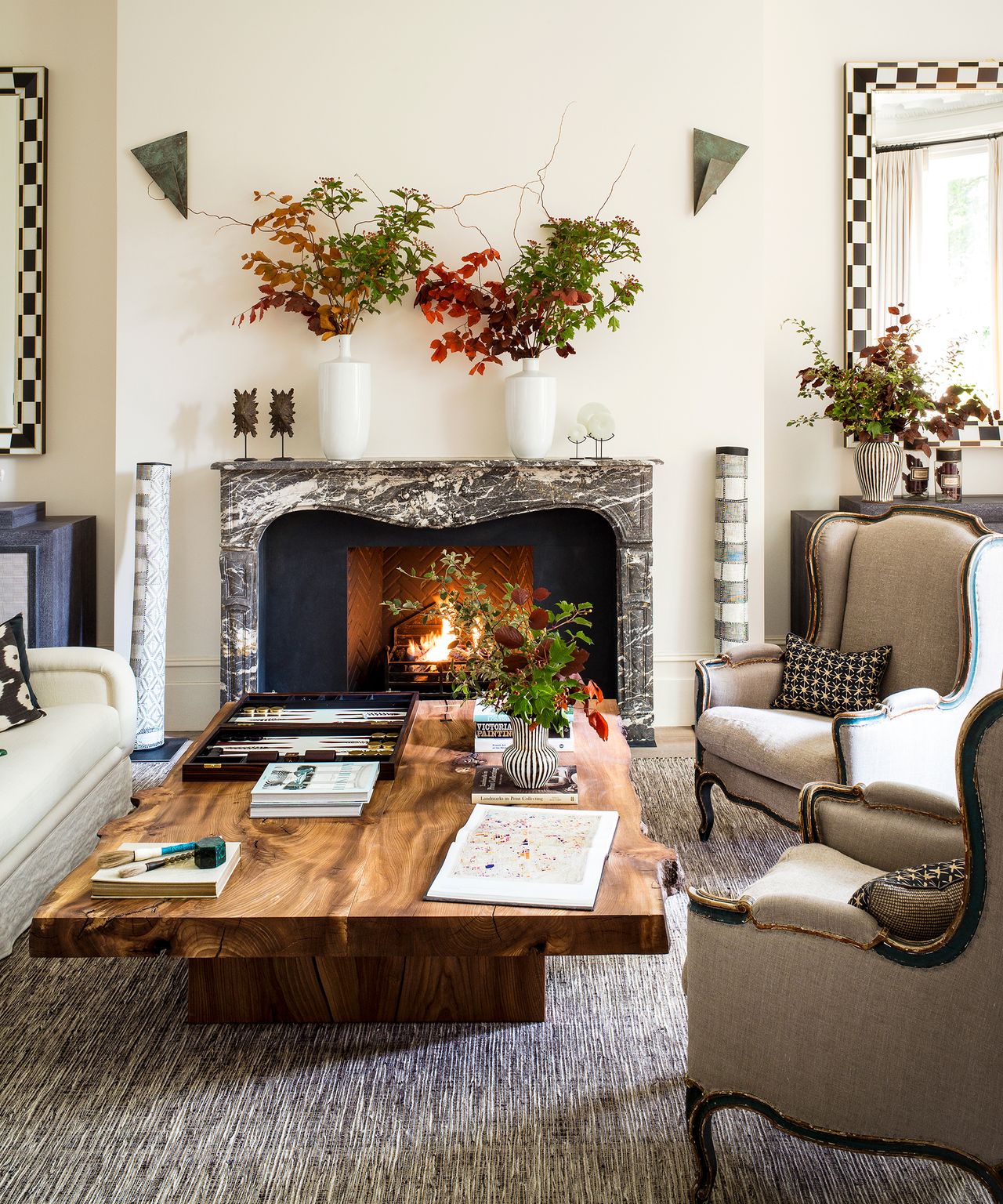 To make sure all eyes are on your fireplace, give it the framing it deserves.
Although the fire surround may seem like the be-all and end-all when framing a fireplace, the insert can add that extra bit of drama that will elevate the whole look. 
Choose an interior insert which balances well with the surround, like this dark, dramatic insert picking up on the deepest veins of the marble surround. And, of course, spend time investing in beautiful mantel decor ideas, which will serve to draw attention to your fireplace ideas.
How do I choose the right fireplace?
'I'd always recommend sticking to the period of the house when looking to choose a fireplace,' says Owen Pacey, Renaissance London. 'This ensures that the styles align and the fireplace will look like it's always been there. 
'In the Georgian period in the UK, they made tens of thousands of bullseye style fireplaces, so this style is very typical in properties of that time. Similarly with Victorian fireplaces, the most common design is Carrara marble with a shell design on the corbels. Edwardian fireplaces are beautifully intricate, mainly tiled and made from either cast iron or slate, with an Art Nouveau feel to them as well.'
How do I choose the right size fireplace?
To choose the right size fireplace, look at its proportions in relation to the room's size. 'The size of the room is what dictates the proportions of your fireplace,' advises Owen Pacey of Renaissance London. 'Measure your chimney breast and ideally you want the mantelpiece to overhang on 2in each side.'
How do I restore an original fireplace?
To restore an original fireplace or fire surround, seek expert advice, says Owen Pacey of Renaissance London. 'Definitely, I would always recommend going to a professional restorer,' he says. 'For marble in particular – you can try to do it yourself but only if you have a lot of time on your hands. Always go for professional restorers if you're dealing with chimney flues. It's a very specialist area and there aren't many of them for that reason. It's really important to get right.'
You can clean a fireplace yourself, but beyond that, you will need an expert to safely deal with the job.
How do I choose a stove for my fireplace?
Because they are such an emotive piece of our homes, it's important to choose a stove which speaks to you and your style the most. That said, there are some additional considerations to keep in mind.
'Think of your stove as a piece of furniture for heating,' advises Cedric Wells, Creative Director of Charnwood. 'A stove is quite a considered investment and one that is likely to remain in the room for many years so choose a classic style that won't date.' 
Size, too, is key. 'It is important you purchase a stove with the correct output in relation to the size of your room,' notes Cedric. 
'It is better to have a smaller stove that you can burn hard rather than a large stove that produces too much warmth as you will end up opening doors and windows to disperse the heat.'
https://www.homesandgardens.com/interior-design/fireplace-ideas